Ski School
Learning to ski or brushing up on your technique before the winter sports season begins? This is possible at the ski school of Skicentrum Heemskerk. From Haarlem, Alkmaar and Amsterdam you are less than 20 minutes away from your first ski lessons or advanced ski lessons. So you can start your ski lessons from a large part of North Holland within 20 minutes. There is plenty of free parking space.
At Skicentrum Heemskerk we use two modern indoor rolling tracks. 
The ski course
A ski course takes 60 minutes. During a regular lesson you ski with three persons. You stand 10 minutes on the track and rest 10 minutes. You go through this cycle three times in total. It is also possible to take lessons with two people or even get total attention during a private lesson. Check the options and rates here. You can sign up for ski lessons here.

Equipment and clothes
During the ski lessons you ski on skis from the ski school. The use of ski boots and a helmet is included in the price. If you have your own ski boots and / or a helmet, we recommend you to use them. Wearing a helmet is not obligatory but is recommended. The indoor track is, as the word says, indoor. Therefore it is not necessary to wear ski wear. Due to the intensity of the skiing lessons, it is pleasant to wear sports clothing. These include comfortable trousers and a long-sleeved shirt, or a T-shirt and a jacket.

Why take ski lessons on a roller track?
You have the best technical and physical preparation for the winter sports holiday.
You are taught in small groups.
You receive direct feedback from the teacher who is standing nearby.
There is no time wasted (waiting for a ski lift, for example).
You experience a high efficiency because the track keeps turning and movements are repeated a lot.
It is suitable for beginners to advanced skiers. Even racers train on the roller track.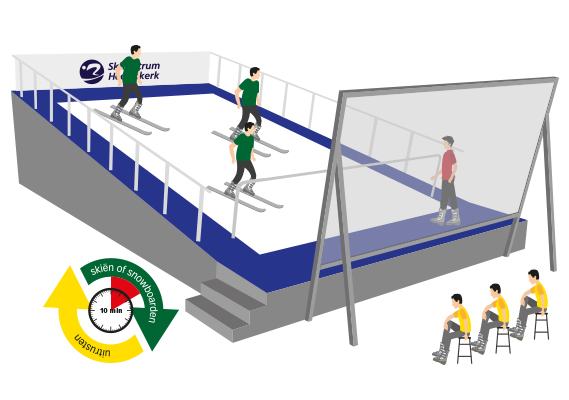 General information
All our ski instructors are qualified and have also often followed a sports course. In addition to the "regular lessons", we also provide teacher training and training for racers.
The ski school is led by Richard Molenaar. Richard has participated in the Dutch demonstration team for more than 20 years. Our association Ski Racing Heemskerk, which was founded by Richard, is an extension of the ski school. For many years Ski Racing Heemskerk belongs to the best teams of the Netherlands and we are proud of that!